Travelling to Cyprus
Download maps of Cyprus towns: 
Nicosia |  Limassol |  Larnaca |  Paphos |  Famagusta
Cyprus, tucked away in the top right hand corner of the Mediterranean and at the South-Eastern corner of Europe, is located between Europe, Asia and Africa and rightly claims to be a stepping stone to three continents (33Β° east of Greenwich and 35Β° north of the Equator). Cyprus is the third largest island in the Mediterranean and has been an independent country since 1960 and a member of the European Union since 1st May 2004.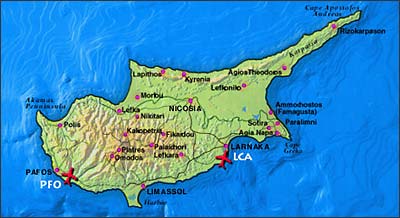 The two international airports and the corresponding codes
(Larnaca in the east and Paphos in the west)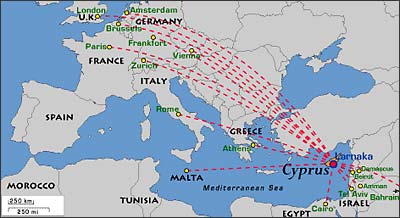 Some of the European and Middle Eastern cities from which Cyprus Airways is flying directly to the island.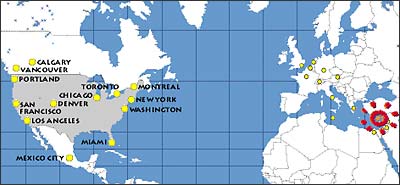 The location of Cyprus
The hotels in Limassol are approx. 35-45 minutes drive from Larnaca International Airport and approx. 40 minutes from Paphos International Airport.
BUS TRANSFER FROM THE AIRPORTS TO THE DIFFERENT CITIES IN CYPRUS

There is a possibility to take advantage of the bus transfer service available by private companies just outside of the two airports (Larnaca and Paphos). This service is offered on a 24hrs basis and current costs estimates run at approximately max. 10 Euros. For more information please visit the following webpages and the bus timetables.
The Cyprus Airways is the Official Air Carrier of the conference. It offers the following special net fares for the transportation of the delegates of the joint conference:

SPECIAL NET FARES BY CYPRUS AIRWAYS

Cyprus Airways is pleased to offer 15% discount on all published applicable fares at the time of reservation. The discount will be applicable only on the fare and not on any Airport /Security and any other applicable taxes/surcharges which must be paid in full at the time of issuance of the tickets on the web-portal of the Cyprus Airways. Please download and print the Cyprus Airways offer.

The transportation of the passengers is subject to seat availability on Cyprus Airways direct flights and aircrafts at the time of firm reservation.

Cyprus Airways will also try to help with the extra hand luggage for the transportation of the necessary fragile equipment of the exhibitors that will be exhibiting in Cyprus during the event. It is important that at the time of booking the exhibitors should mention that special equipment would be carried on the same flight.

The delegates may visit the Cyprus Airways web site www.cyprusairways.com to obtain the contact addresses and telephone numbers of the respective Cyprus Airways Offices.
USEFUL LINKS